Curiosity Lands on Mars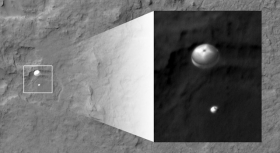 An image from the High Resolution Imaging Science Experiment (HiRISE) camera aboard NASA's Mars Reconnaissance Orbiter captured the Curiosity rover still connected to its 51-foot-wide (almost 16 meter) parachute as it descended towards its landing site at Gale Crater. "If HiRISE took the image one second before or one second after, we probably would be looking at an empty Martian landscape," said Sarah Milkovich, HiRISE investigation scientist at NASA's Jet Propulsion Laboratory in Pasadena, Calif. "When you consider that we have been working on this sequence since March and had to upload commands to the spacecraft about 72 hours prior to the image being taken, you begin to realize how challenging this picture was to obtain."
The image was taken while MRO was 211 miles away from the parachuting rover. Curiosity and its rocket-propelled backpack, contained within the conical-shaped back shell, had yet to be deployed. At the time, Curiosity was about two miles above the Martian surface. It is extremely hard to catch such an image as well as lucky.
Curiosity, NASA's latest contribution to the Martian landscape, landed at 10:32 p.m. Aug. 5, PDT, (1:32 on Aug. 6, EDT) near the foot of a mountain three miles tall inside Gale Crater, 96 miles in diameter. Gale is a crater on Mars near the northwestern part of the Aeolis quadrangle at 5.4°S 137.8°E. It is 96 miles in diameter and believed to be about 3.5 to 3.8 billion years old. The crater was named after Walter Frederick Gale, an amateur astronomer from Sydney, New South Wales, Australia, who observed Mars in the late 19th century. Aeolis Mons is a mountain in the center of Gale Crater and rises 18,000 ft high.
"Today, the wheels of Curiosity have begun to blaze the trail for human footprints on Mars. Curiosity, the most sophisticated rover ever built, is now on the surface of the Red Planet, where it will seek to answer age-old questions about whether life ever existed on Mars -- or if the planet can sustain life in the future," said NASA Administrator Charles Bolden. "This is an amazing achievement, made possible by a team of scientists and engineers from around the world and led by the extraordinary men and women of NASA and our Jet Propulsion Laboratory. President Obama has laid out a bold vision for sending humans to Mars in the mid-2030's, and today's landing marks a significant step toward achieving this goal."
For further information see Curiosity.
Landing image via NASA.