Simple construction system 'offers quake protection'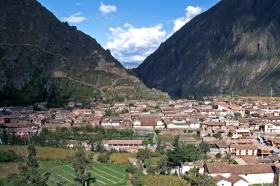 A new technique for building low-cost houses in earthquake-prone areas has been successfully tested in Peru, and could be rolled out in any developing country with a seismic risk, according to researchers.
The system consists of prefabricated steel bars in the form of trusses, triangular support structures, which are welded to each other to form grids that, in turn, form the walls and ceiling of a house — essentially forming a lightweight steel structural skeleton.
These skeletons are then filled in with hollow brick or adobe, a building material made from clay, sand, water and natural fibres, which is used widely in house construction across the developing world, despite being highly vulnerable to earthquakes.
The system "is not complicated at all, and any qualified construction worker could do it", Francisco Ginocchio, a professor of civil engineering at the Pontifical Catholic University of Peru (PUCP), told SciDev.Net.
It was tested at PUCP's Anti-seismic Structure Laboratory, in collaboration with the Technical University of Madrid (UPM), between 2008 and 2011. Tests were carried out on two-storey buildings, some of them built at full scale, constructed using cheap local materials such as adobe and hollow brick.
The results were published in the online journal Materiales de Construcción earlier this year.
Article continues at ENN affiliate, Science and Development Network
Peru Mountains image via Shutterstock