Could California Handle a 6.4 Quake?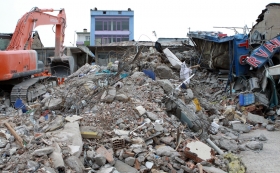 Earthquakes don't kill people. Buildings built on earthquake fault lines kill people, unless they are built specifically to handle severe earthquakes.
The twin quakes of magnitude 6.4 and 6.3 that struck Iran within 11 minutes of each other over the weekend is a devastating example of how important this understanding of geoengineering is to life on a fault zone.
The scary question for Californians and the Pacific Northwest is: Are they ready?
Let's be honest. Californians eat magnitude 4's and 5's for breakfast. And yes, the state can survive a magnitude 6.0 practically unscathed. But, ramp it up to a twin 6.4 and 6.3, and the outcome really depends on where the quakes strikes. I would expect there may be a few fatalities.
Article continues at Discovery News
Earthquake Damage image via Shutterstock