Belo Monte mega-dam halted again by high Brazilian court, appeal likely but difficult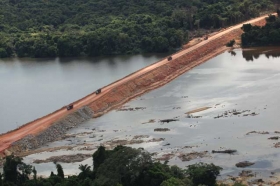 A high federal court in Brazil has ruled that work on the Belo Monte dam in the Brazilian Amazon be immediately suspended. Finding that the government failed to properly consult indigenous people on the dam, the ruling is the latest in innumerable twists and turns regarding the massive dam, which was first conceived in the 1970s, and has been widely criticized for its impact on tribal groups in the region and the Amazon environment. In addition the Regional Federal Tribunal (TRF1) found that Brazil's Environmental Impact Assessment was flawed since it was conducted after work on the dam had already begun.
"The Brazilian Congress must take into account the decisions taken by the indigenous communities. Legislators can only give the go-ahead if the indigenous communities agree with the project," Judge Souza Prudente told O Globo newspaper, as reported by the BBC.
Construction on the $11 billion dam has been in full swing since earlier this year, prompting a 21-day occupation of the construction site by impacted tribes.
Diverting 80 percent of the flow of the Xingu River, indigenous groups fear the dam will forever change their lives and livelihoods, which depend on the Xingu. The Brazilian government has estimated that 16,000 people will be forced to move, while critics say the number will likely be double that. In addition, the dam will submerge around 40,000 hectares of Amazon rainforest and could decimate some fish populations, possibly even pushing some unique species to extinction.
Article continues at ENN affiliate, Mongabay
Image credit: Atossa Soltani