Arctic sea ice approaches another record melt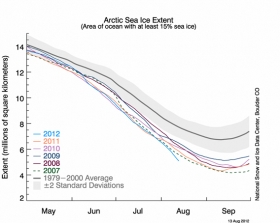 Sea ice extent in the Arctic is very near to beating the previous record low set in 2007, according to the U.S. National Snow and Ice Data Center. Researchers told Reuters that they expect the record to be beaten by the end of month, well over a week before the melt season ends in the frozen north. In 2007 the sea ice extent fell to a record nadir of 4.28 million square kilometers (1.66 million square miles), astonishing experts and prompting a second look on how quickly sea ice might disappear from the Arctic altogether during the summer. But researchers say sea ice extent could fall below 4 million square kilometers (1.5 million square miles) this year if current melt trends continue.
Arctic sea ice has been disappearing far faster than scientists initially predicted. Predictions once focused on sea ice disappearing for a time in the summer by 2100, then it was 2050 or 2040, and now some researchers say sea ice could disappear before the end of the decade.
Article continues are Arctic Ice.
Figure image via U.S. National Snow and Ice Data Center.