Clean vs Dirty Energy: Learning From India's Great Blackout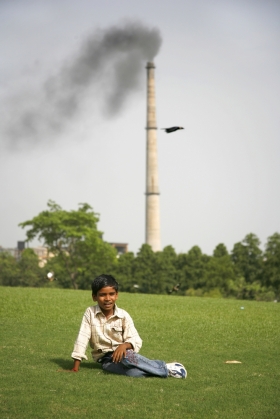 India is a fast-developing nation with a population of 1.2 billion people, and by 2030 will likely be the most-populous in the world. India's disparities and inequalities are staggering, with 32.7 percent of the population living on $1.25 per day. As the country continues to grow, the impacts on its citizens and the environment become more severe.
Take energy, for example. Over 400 million Indians lack access to the modern electrical grid. Approximately 70 percent of India's power comes from coal and it has the world's fifth-largest coal reserves. India is the third-largest coal producer in the world, but also the third-largest importer. Earlier this year, the IMF reported that coal causes about 70,000 premature deaths every year in India. The country has the worst air pollution in the entire world. Continued dependence on coal is only going to exacerbate health problems.
What happens when the electric grid fails and nearly 700 million Indians are left in the dark, as happened in early August when a massive power failure occurred? Hopefully an assessment of how best to address the power needs of the sub-continent. This is a pivotal moment. India can take the initiative and invest more in efficiency and renewable energy/off-grid alternatives, beginning a transition off of coal, or it could continue to rely on the dirtiest of fossil fuels, harming communities and the environment alike.
The Indian government does have an ambitious plan for increasing solar energy. In 2008, the government launched the National Solar Mission, which calls for generating 12.5 percent of India's total electricity, or 20 gigawatts (GW), from renewable resources by 2020. It was reported last month that the country crossed the 1 GW mark in solar photovoltaic power.
Article continues at ENN affiliate, Triple Pundit
Indian Coal Stack image via Shutterstock