Arctic summer sea ice decline seems irreversible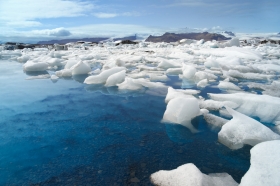 Scientists say this year's record declines in Arctic sea ice extent and volume are powerful evidence that the giant cap of ice at the top of the planet is on a trajectory to largely disappear in summer within a decade or two, with profound global consequences.
As the northern summer draws to a close, two milestones have been reached in the Arctic Ocean — record-low sea ice extent, and an even more dramatic new low in Arctic sea ice volume. This extreme melting offers dramatic evidence, many scientists say, that the region's sea ice has passed a tipping point and that sometime in the next decade or two the North Pole will be largely ice-free in summer.
NASA and U.S. ice experts announced earlier this week that the extent of Arctic sea ice has dropped to 4.1 million square kilometers (1.58 million square miles) — breaking the previous record set in 2007 — and will likely continue to fall even farther until mid-September. As the summer melt season ends, the Arctic Ocean will be covered with 45 percent less ice than the average from 1979 to 2000.
Even more striking is the precipitous decline in the volume of ice in the Arctic Ocean. An analysis conducted by the University of Washington's Pan Arctic Ice Ocean Model Assimilation System (PIOMAS) estimates that sea ice volumes fell in late August to roughly 3,500 cubic kilometers — a 72-percent drop from the 1979-2010 mean.
Peter Wadhams, who heads the Polar Ocean Physics Group at the University of Cambridge and who has been measuring Arctic Ocean ice thickness from British Navy submarines, says that earlier calculations about Arctic sea ice loss have grossly underestimated how rapidly the ice is disappearing. He believes that the Arctic is likely to become ice-free before 2020 and possibly as early as 2015 or 2016 — decades ahead of projections made just a few years ago.
Read more at Yale Environment 360.
Melting ice image via Shutterstock.