Summer Temps in the Lower 48 Are 3rd Highest on Record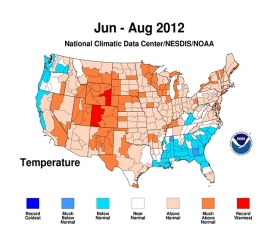 Between June and August, the contiguous United States experienced its 3rd hottest summer. According to the National Oceanic and Atmospheric Administration (NOAA), the average temperature around the lower 48 states was warmer than average in June and August, and set a new heat record for July. The average for the whole summer was 74.4 degrees F, 2.3 degrees above the 20th century average. The only hotter summers were in 2011 and way back in 1936. The most notable aspect of this summer climate is the extreme drought in parts of the country. According to the US Drought monitor, nearly 63 percent of the lower 48 continue to experience drought conditions to this day.
The following are highlights of NOAA's State of the Climate Report for August and for the summer as a whole.
August
Drier than average conditions stretched from the Pacific Northwest, through the Rockies, and into the Upper Midwest. Even in soggy Seattle, 48 days passed without a drop of rain. They finally got a little rain last Sunday.
Hurricane Isaac's landfall caused tremendous damage to gulf coast communities. However, it also brought much needed rain to many droughts stricken states. The slow moving, heavy rainfall caused the gulf states of Louisiana, Mississippi, Alabama, and Florida to have some of their wettest Augusts ever. As the storm moved inland, it brought some welcome relief to areas of the Midwest.
The western states experienced warm dry conditions conducive to wildfires. Over 3.6 million acres burned across the nation, mostly in the West.
Summer (June-August)
It was a very hot summer across the contiguous United States, with the exception of the Southeast and parts of the Pacific Northwest. Sixteen states had summers in the top ten. Two states set records, Colorado and Wyoming, with temperatures 4.4 and 4.9 degrees F above average, respectively.
The nationally average summer precipitation total was 7.39 inches, 0.86 inches below the average. There were some exceptions to the dryness, however. Florida set a new rainfall record with help from Hurricane Isaac and Tropical Storm Debby. The West Coast, Gulf Coast, and New England also experienced wetter than average summers.
For more information, go to the NOAA National Climate Data Center
Image credit: NOAA