Global Auto Production Driving to New Record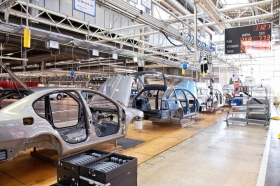 Production of passenger vehicles (cars and light trucks) rose from 74.4 million in 2010 to 76.8 million in 2011—and 2012 may bring an all-time high of 80 million or more vehicles, according to new research conducted for our Vital Signs Online service. Global sales of passenger vehicles increased from 75.4 million to 78.6 million over the same period, with a projected 81.8 million in 2012. The major driver of increased production and sales are the so-called emerging economies, especially China.
Rising sales translate into ever-expanding fleets. An estimated 691 million passenger cars were on the world's roads in 2011. When both light- and heavy-duty trucks are included, the number rises to 979 million vehicles, which was 30 million more than just a year earlier. By the end of 2012, the global fleet could top 1 billion vehicles—one for every seven people on the planet.
Electric vehicle (EV) production remains at barely perceptible levels. Although several countries have issued targets for future EV fleets, it remains to be seen whether these goals can be met. China, for instance, wants to put 5 million plug-in hybrid-electric and fully electric vehicles on its roads by 2020—which could account for more than 40 percent of the global EV fleet that year. An analysis by Deutsche Bank Climate Advisors, however, suggests that production of 1.1 million EVs and a fleet of 3.5 million in China is a more realistic projection.
Automobiles are major contributors to air pollution and greenhouse gas emissions. Greater fuel efficiency, along with the use of cleaner fuels, can help mitigate these impacts, although increases in the numbers of cars and the distances driven threaten to overwhelm fuel economy advances.
Skoda Auto Plant photo MLADA BOLESLAV, CZECH REPUBLIC via Shutterstock
Read more at ENN Affiliate Worldwatch Institute.