The Problem with Tree Plantations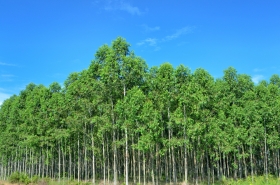 Today, September 21, is the "International Day of Struggle against Monoculture Tree Plantations", an annual event organized by a coalition of social and environmental groups. Here, Isaac Rojas, a Costa Rican who is Friends of the Earth International coordinator of its Forest and Biodiversity Program, expresses his view point on industrial plantations.
Public environmental awareness has come a long way since September 1962, when Rachel Carson's 'Silent Spring' was published, stimulating the birth of the environmental movement.
This movement may be fifty years old, but nowadays you can feel 'green' by helping destroy forests instead of protecting them, for instance by clicking online a 'plant a tree' button on a seemingly well-meaning website.

The reality is that timber plantations have a negative impact on biodiversity, communities, and local economies. Large-scale plantations are not a solution to climate change nor to biodiversity loss. They are simply a huge concern and cause numerous problems in many countries, for instance in Indonesia.
Most people are not aware of these problems. In fact many people, including some 'environmentalists', seem to believe that large-scale tree plantations heavily sprayed with chemicals are desirable or even sustainable.
For these reasons, Friends of the Earth International, together with many social movements around the world, are raising awareness about the problems associated with timber plantations during an 'International Day Against Monoculture Tree Plantations' on September 21st.
Plantation of Eucalyptus via Shutterstock.
Read more at ENN Affiliate, MONGABAY.