Jatropha can revive degraded land, says study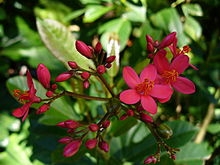 Large-scale cultivation of Jatropha – known as a potential source of biofuel – can improve the soil quality of degraded lands and address climate change, says a new study. Jatropha curcas seeds yield oil that can be processed into biodiesel, but scientists at the International Crop Research Institute for the Semi-Arid Tropics (ICRISAT), Hyderabad, have found that Jatropha plantations can also sequester carbon in abundant quantities.
The findings, reported in October in Agriculture, Ecosystems and Environment, may reignite the 'fuel-versus-food' debate where critics argue that Jatropha cultivation diverts lands that could be used to grow food crops and affect food security.
ICRISAT scientists, led by Suhas Wani, assistant research program director, studied Jatropha plantations in six different locations in India and measured the amount of carbon dioxide – a greenhouse gas – they removed.
Article continues at Jatopha.
Flower image via Wikipedia