False Killer Whales to Receive Protection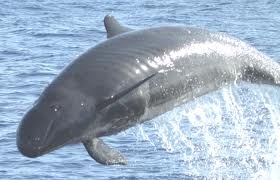 Conservation Groups, Fisheries Service Agree on Deadline for 'Take-reduction' Plan.
The federal agency charged with protecting marine mammals settled a court case yesterday by pledging to finalize and implement protections for false killer whales by Nov. 30, 2012. False killer whales (Pseudorca crassidens), which are actually large dolphins, have suffered unsustainable levels of death and serious injury in Hawaii-based longline fisheries. The National Marine Fisheries Service struck the agreement with the Center for Biological Diversity and Turtle Island Restoration Network, represented by Earthjustice. When approved by the federal district court, the settlement will wrap up a lawsuit the conservation groups brought in June 2012.
"For more than two years, the Fisheries Service has had sitting on its shelf a plan to protect Hawaii's false killer whales that reflects the consensus of expert biologists, longline fishermen and conservation groups," said Brendan Cummings of the Center for Biological Diversity, a member of the take-reduction team that the Fisheries Service convened in 2010. "With the fishery continuing to kill false killer whales at rates far beyond what they can sustain, it's long past time for the agency to get that plan off the shelf, put it into action and start saving whales."
The Service's own data have shown for over a decade that Hawaii-based longline fishing kills false killer whales in Hawaiian waters at unsustainable rates. The latest data, which the agency released in August 2012, reveal that each year longline fishing kills an average of more than 13 false killer whales from the "Hawaii Pelagic Stock" (animals found more than 22 nautical miles from the main Hawaiian Islands), nearly 50 percent more than what the agency has said that population can sustain.
False killer whales in the "Hawaii Insular Stock" (animals found within 76 nautical miles of the main Hawaiian Islands) are being killed in Hawaii-based longlines at nearly twice the sustainable rate, contributing to a 9 percent decline in the population each year since 1989. Only about 150 of these animals remain, and the Fisheries Service has proposed to list them as "endangered" under the Endangered Species Act.
False Killer Whale photo credit NOAA.
Read more at Center for Biological Diversity.