Hurricane Sandy Update: Eight to Ten Million Cumulative Power Outages Predicted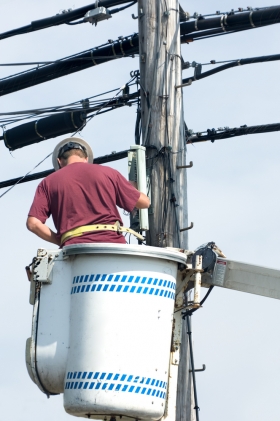 Hurricane Sandy is weakening and moving faster than anticipated. Therefore a computer model developed by an engineer at The Johns Hopkins University is now predicting fewer power outages than initially expected. Seth Guikema is predicting that an overall cumulative total of 8 to 10 million people will lose power in the wake of the hurricane, based on the last storm track and intensity forecast at 2 a.m. EDT on Tuesday, Oct. 30.
It is important to note that the computer model predicts cumulative outages, not peak outages. Cumulative means the total count of anyone who has lost power, versus peak, which is the number of people without power at any one point in time. For instance, in Maryland, the local utility company reported approximately 290,000 cumulative power outages as of 10:30 a.m. on Monday, Oct. 29, but their peak was approximately 210,000 because they were actively restoring outages while new outages were occurring.
Guikema has been tracking Hurricane Sandy since late last week using his computer model, which in the early days of the storm used outage data from 11 hurricanes to estimate the fraction of customers who will lose power, based on expected gust wind speed, expected duration of strong winds greater than 20 meters per second, and population density. As the storm progressed, the model incorporated the actual track of the storm as well as the forecast. The predicted number of outages fluctuated throughout the storm based on the available forecast data.
Lineman repairing a electrical lineLineman repairing a electrical lineLineman repairing a electrical line via Shutterstock.
Read more at ScienceDaily.