Predicting Obama Action on Climate Change in his Second Administration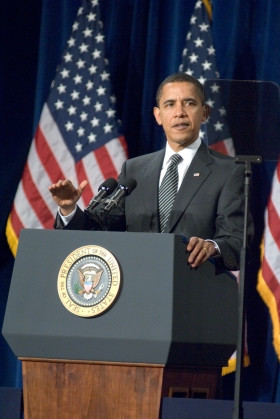 Newly re-elected President President Obama gave a nod to climate change in his acceptance speech on election night, but reducing the United States' greenhouse gas (GHG) emissions is still not very high on the President's agenda for his second term. Yet the looming debate on fiscal reform combined with recent weather events could create an opportunity to introduce a carbon tax.
While global warming was one of Obama's top priorities going into his first mandate, in 2012, Obama stayed as far away from the topic as he could. Not only was the economy the main issue for both candidates, but it's also likely that Obama felt vulnerable to attacks against his energy policy record following the high-profile Solyndra bankruptcy in September 2011.

Hurricane Sandy, and maybe more importantly, Mayor Bloomberg's open editorial tying Sandy to global warming and to presidential politics, brought climate change back on the agenda – though it's still not very high on the list. Even after Tuesday's victory, Obama is going to have to tread carefully – the suffering of millions on the East Coast is very real and the path to recovery is going to be a long one, so any attempt (or perceived attempt) to push a political agenda on the back of Sandy's destruction may not be well received. In addition, the state of the economy remains the absolute top priority, and Obama will not be able to focus on other high profile issues until the economy gets better and the budget deficit gets somewhat under control.
So what, if anything, can we really expect from a second Obama mandate? Well, don't get too excited. Caution has been the operating concept since Congress's attempt to pass a cap-and-trade bill went down in flames, and more cautious progress is all we can reasonably expect.
President Obama via Shutterstock.
Read more at ENN Affiliate, TriplePundit.