Update on ×tzi the Iceman and the Spread of Agriculture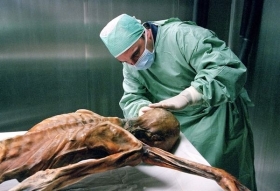 ×tzi the Iceman, an astonishingly well-preserved Neolithic mummy found in the Italian Alps in 1991, was a native of Central Europe, not a first-generation émigré from Sardinia, new research shows. And genetically, he looked a lot like other Stone Age farmers throughout Europe.
The new findings, reported Thursday (Nov. 8) here at the American Society of Human Genetics conference, support the theory that farmers, and not just the technology of farming, spread during prehistoric times from the Middle East all the way to Finland.

"The idea is that the spread of farming and agriculture, right now we have good evidence that it was also associated with a movement of people and not only technology," said study co-author Martin Sikora, a geneticist at Stanford University.
In what may be the world's oldest cold case, ×tzi was pierced by an arrow and bled to death on a glacier in the Alps between Austria and Italy more than 5,000 years ago.
Scientists sequenced ×tzi's genome earlier this year, yielding a surprising result: The Iceman was more closely related to present-day Sardinians than he was to present-day Central Europeans.
But the researchers sequenced only part of the genome, and the results didn't resolve an underlying question: Did most of the Neolithic people in Central Europe have genetic profiles more characteristic of Sardinia, or had ×tzi's family recently emigrated from Southern Europe?
Photo Credit National Geographic.
Read more at Discovery News.