Tree intercropping could save Africa's soils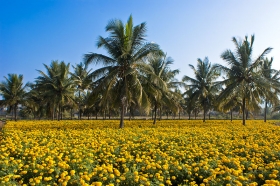 Scientists have reported in Nature that the agroforestry approach of planting nutrient-fixing trees with food crops could help replenish Africa's poor quality soils, tackling one of the biggest threats to food security on the continent. Planting certain perennial trees together with food crops can more than double yields for maize and millet, which are among Sub-Saharan Africa's staple foods, scientists say.
According to the comment article, 'Agriculture: plant perennials to save Africa's soils', deep-rooted trees that live for two years or longer in crop fields would be a better and more sustainable option than expensive chemical fertilisers and often inadequate organic manures.
Trees such as Acacia albida, pigeon pea and Gliricidia could significantly fortify soils with nitrogen and potassium, elements critical to soil health.
Article continues at Intercropping.
Trees image via Wikipedia.