Sea Turtles Rescued on Cape Cod This Weekend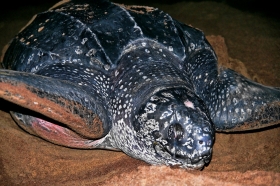 Endangered sea turtles are becoming stranded on Massachusetts' Cape Cod shores so frequently in recent weeks that wildlife rescuers are scrambling to cope with what could be a record influx.
In the past four days, some 67 sea turtles suffering from hypothermia have been brought to the New England Aquarium's Animal Care Center care facility near Boston, aquarium spokesman Tony LaCasse said Friday. They are among 120 sea turtles that arrived since early November.
Turtle strandings in Cape Cod Bay typically begin in November during the annual winter migration back to the Gulf of Mexico, LaCasse said. In early summer, the reptiles will migrate back up the eastern seaboard to forage for crab, he said.
The sea turtles are washed ashore by high winds and tides in the large, shallow bay because they are unable to find their way around the hooked tip of Cape Cod to swim south for the winter, he said. As the water temperature falls, they get stunned by the cold, become weak and float on the surface.
"It essentially creates a deadly bucket," LaCasse said. "We don't know of it happening anywhere else in the world on this scale."
As many as 144 sea turtles have been rescued in past so-called stranding seasons, which could last until the third week of December, LaCasse said.
Leatherback sea turtle via Shutterstock.
Read more at NBC News.