Gorilla Success Story in Uganda's Bwindi Impenetrable National Park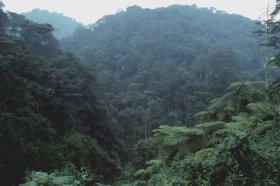 With all the stories of the struggles of mountain gorillas and the illegal poaching they are suffering, it is a welcome relief to hear some good news. That news has come from a recent survey supported by the Wildlife Conservation Society of the great apes in one of Uganda's national parks. The survey revealed that their population has actually risen since the last count in 2006, an increase of roughly 33 percent to a minimum total of 400. When added to the famous mountain gorilla population of the Virunga Volcanoes to the south (the only other place where they exist), the entire global population of mountain gorillas now stands at 880.
The Bwindi Impenetrable National Park (maybe the coolest named national park) is located in southwestern Uganda along the border of the DRC (Democratic Republic of Congo). It comprises 331 square kilometers (128 square miles) of thick jungle that is only accessible by foot. It is known as being home to astonishing rich biodiversity and has been recognized as a World Heritage Site by UNESCO.
The park's population of critically endangered mountain gorillas is a huge draw for tourism. This provides ample reason for the nation to protect them and ensure a growing population. Tourists who wish to view the gorillas have to endure a long journey on difficult roads to the jungle, paying for transportation, food, and lodging provided by the local community. They then have to pay a permit to track the gorillas, generating great revenue for the Uganda Wildlife Authority (UWA).
The recent census was conducted by the Uganda Minister for Tourism, Wildlife, and Antiquities along with the UWA. They found the Bwindi mountain gorilla population had increased to a minimum of 400 from 302 back in 2006, a 33 percent increase in only 6 years.
"The latest census of mountain gorillas in Bwindi provides the conservation community with much needed good news," said Dr. Liz Macfie, Gorilla Coordinator for the Wildlife Conservation Society. "The results also show us that enforcement efforts by the Uganda Wildlife Authority there are paying off."
To more accurately count the reclusive animals, they census participants combed through the forest twice, not just once like most wildlife surveys. They also supplemented the usual method of counting nests and collecting dung with actual genetic analysis of the fecal matter collected.
"We commend the census organizers for a well-organized field effort," said Dr. James Deutsch, WCS's Executive Director for Africa Programs. "WCS is proud to be part of what has become the gold standard of effective conservation teamwork in the effort to save our closest of kin."
For more information of wildlife conservation, go to World Conservation Society.
Bwindi Impenetrable National Park image via Shutterstock