Doha climate change deal makes aid to poor countries for loss and damage look likely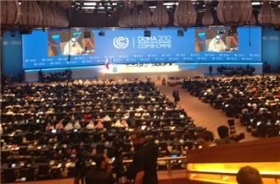 Poor countries have won historic recognition of the plight they face from the ravages of climate change, wringing a pledge from rich nations that they will receive funds to repair the "loss and damage" incurred.
This is the first time developing countries have received such assurances, and the first time the phrase "loss and damage from climate change" has been enshrined in an international legal document.
Developing countries had been fighting hard for the concession at the fortnight-long UN climate change talks among 195 nations in Qatar, which finished after a marathon 36-hour final session.
Ronald Jumeau, negotiating for the Seychelles, scolded the US negotiator: "If we had had more ambition [on emissions cuts from rich countries], we would not have to ask for so much [money] for adaptation. If there had been more money for adaptation [to climate change], we would not be looking for money for loss and damage. What's next? Loss of our islands?"
Ruth Davis, political adviser at Greenpeace, said: "This is a highly significant move – it will be the first time the size of the bill for failing to take on climate change will be part of the UN discussions. Countries need to understand the risks they are taking in not addressing climate change urgently."
Ed Davey, the UK energy and climate secretary, said: "It's about helping the most vulnerable countries, and looking at how they can be more resilient."
But the pledges stopped well short of any admission of legal liability or the need to pay compensation on the part of the rich world.
The US had strongly opposed the initial "loss and damage" proposals, which would have set up a new international institution to collect and disperse funds to vulnerable countries. US negotiators also made certain that neither the word "compensation", nor any other term connoting legal liability, was used, to avoid opening the floodgates to litigation – instead, the money will be judged as aid.
Key questions remain unanswered, including whether funds devoted to "loss and damage" will come from existing humanitarian aid and disaster relief budgets. The US is one of the world's biggest donor of humanitarian aid and disaster relief, from both public and private sources. It will be difficult to disentangle damage inflicted by climate change from other natural disasters.
Doha Climate Summit photo courtesy Doha Press.
Read more at EurActiv.