Sea level rise of more than 3 feet plausible by 2100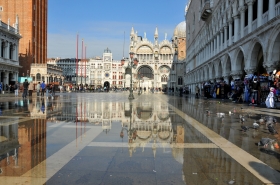 Melting glaciers in Antarctica and Greenland may push up global sea levels more than 3 feet by the end of this century, according to a scientific poll of experts that brings a degree of clarity to a murky and controversial slice of climate science. 
Such a rise in the seas would displace millions of people from low-lying countries such as Bangladesh, swamp atolls in the Pacific Ocean, cause dikes in Holland to fail, and cost coastal mega-cities from New York to Tokyo billions of dollars for construction of sea walls and other infrastructure to combat the tides.
Estimating how much sea levels will rise from ice sheet melting is one of the more challenging aspects of climate science. Some evidence suggests recent accelerated melting is related to changes in ocean and atmospheric temperature, though natural variability may play an important role.
In addition, glaciers respond to external forces such as warmer temperatures in different ways, even when they are located right next to each other. As a result, there is tremendous uncertainty in the scientific community over how the melting will affect sea levels over the next century.
Venice Aqua Alta via Shutterstock.
Read more at Science on NBC News.