World's Greenest Building, Bullitt Center, Opens Earth Day in Seattle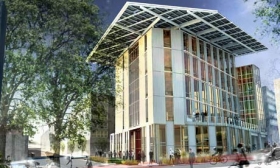 Nestled between downtown Seattle and the Capitol Hill district, the Bullitt Center will open on Earth Day, April 22. Builders of the six-story, 50,000 square-foot building claim it will be the "greenest" office building on the planet. Ground broke in August 2011, and since then few green building details have been left unturned, from water efficiency, renewable energy and choice of construction materials. If anything close to a zero-impact office building exists, the Bullitt Center is it.
Inside, tenants will benefit from abundant natural light, plenty of fresh air and overall a healthier environment than can be found in most commercial buildings. The builders bypassed the U.S. Green Building Council's LEED certification in favor of the strenuous Living Building Challenge standards.
The Bullitt Center's approach towards environmental sustainability starts with the design of the site. Cisterns will store rainwater, and "grey water" from sinks and showers will funnel through the building's green roof. Perched on Madison Street, the Bullitt Center will be flanked by a planting strip that will make the approaching sidewalk more pleasant for local workers and residents. Solar arrays will provide as much electricity as the building requires. Medium-height sidewalk plantings will also create a physical separation between pedestrians and vehicle traffic. The building's planners chose the transitional Madison-Miller neighborhood for the opportunity to add more commercial space to a mostly residential area; Madison Street's role as a link to several neighborhoods in Seattle also factored in the building's location.
In tune with the ideals behind the Living Building Challenge, the Bullitt Center takes inspiration from nature and creates a work environment that is practical, yet also healthy for its inhabitants. Architectural details that are aesthetically pleasing yet practical include higher ceilings (eliminating an additional floor possible under local building codes) and a central glass-enclosed staircase that encourages tenants to use the stairs instead of the elevator. Exposed wood, Forest Stewardship Council (FSC) certified, is a reflection of the local Pacific Northwest natural environment.
Article continues at ENN affiliate, Triple Pundit
Image credit: Miller Hull Partnership