Polar Bears may need to be fed by humans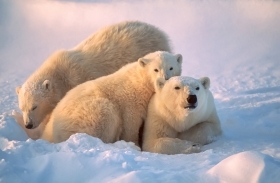 In a paper released this week, the world's leading polar bear scientists say the time has come to consider drastic measures to save these iconic animals, including supplemental feeding by humans during ice-free periods and relocating more southerly populations to the High Arctic.
The day may soon come when some of the 19 polar bear populations in Canada, Alaska, Greenland, Norway, and Russia will have to be fed by humans in order to keep them alive during an extended ice-free season or prevent them from roaming into northern communities. Some bears may have to be placed in temporary holding compounds until it is cold enough for them to go back onto the sea ice. In worst-case scenarios, polar bears from southern regions may have to be relocated to more northerly climes that have sufficient sea ice cover.
Far-fetched, draconian, and unlikely as some of these scenarios may sound, 12 scientists from Arctic countries are, for the first time, suggesting that the five nations with polar bear populations need to start considering these and other management strategies now that sea ice retreat is posing serious challenges to the bears' survival. In worst-case scenarios, the scientists say that polar bears with little chance of being rehabilitated or relocated may have to euthanized. Zoos, which are currently having a difficult time acquiring polar bears because of stringent regulations that prevent them from doing so, will at some point likely be offered as many animals as they can handle, according to the scientists.
This crisis management plan for polar bears as Arctic sea ice disappears is laid out this week in an article in Conservation Letters, the journal of the Society for Conservation Biology. Polar bear experts Andrew Derocher, Steve Amstrup, Ian Stirling, and nine others say that with Arctic sea ice disappearing far faster than originally estimated, it's time for Arctic nations to begin making detailed plans to save as many of the world's 20,000 to 25,000 polar bears as possible.
Polar bear family photo via Shutterstock.
Read more at Yale Environment360.