New Smartphone Technology Reveals US Stream and River Conditions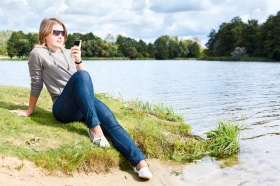 Oh the things your smartphone can do! For the first time, data on current conditions on thousands of rivers and streams across the country, can be accessed from your smartphone, using USGS' latest system WaterNow. WaterNow makes the water conditions monitored by more than 16,000 stream gages and other sites across the country available via text or email. 
Stream gages refer to sites along a stream where information for streamflow, groundwater levels, springs, water quality, and lake levels are measured. They are used by hydrologists and scientists for monitoring purposes, although this data can be accessible to anyone who is interested.
Even though stream gage data has been available to the public for the past 10 years, the USGS hopes WaterNow will make this data more readily available to the general public.
"USGS is the world's largest provider of hydrologic information, and our streamgages are a vital part of that water infrastructure," said USGS Associate Director for Water Bill Werkheiser. "WaterNow brings that information straight from our streamgages to your smartphone, and keeps USGS data flowing at the cutting edge."
Knowing about current water conditions is important for a variety of purposes, from disaster planning and response to recreation. For disaster planning and response, water levels in streams can be checked during floods and serve as a guide to decision makers on when to plan for evacuations. For recreational activities, if upper sections of rivers are too shallow, this will create poor paddling conditions, also if the volume of river flow is very high, swimming might not be the best activity.
Land and resource managers will also benefit from WaterNow too. Not only can water levels be obtained, but also water temperatures can be checked to determine when it is necessary to release water from a reservoir to protect downstream trout fisheries.
How it works:
Find the gage you are interested in. Chances are you will not be able to physically locate or even recognize one of these 16,000 gages, so the USGS provides an online mapper where you can find it based on an address or by looking at a map.
Next, you send the gage site number (and/or site number parameter) in an email or text message to WaterNow@usgs.gov.
And it's as simple as that! An automatic reply will reveal the most recent observations within minutes. Data values are also available for other kinds of data-collection sites such as wells, springs, and lakes.
For complete instructions and guides visit the USGS WaterNow site!
Read more at USGS Newsroom.
Girl on phone image via Shutterstock.