EU Hopes to Make Progress with Fishing Industry Reforms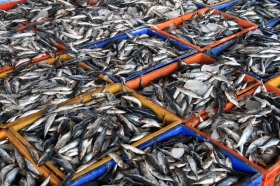 Overfishing has been an important environmental issue recently as catching too many fish in one area can lead to food chain imbalances and the overall degradation of that system. Christian Schwagerl for YaleEnvironment360 discusses Europe's over-subsidized fishing industry and what members of the European Union (EU) are doing to change and protect Europe's marine environment.
Lately, European fisheries policy has been a slowly unfolding environmental disaster. Pumped up by tens of billions of euros in European Union subsidies, fishing fleets ballooned to 100,000 vessels, including many industrial-scale ships that are depleting European waters of fish.
The goal for these subsidies was to create a politically powerful fishing industry. However, the results of fishing stocks what are in peril is predictable as numerous studies have shown that roughly 80 to 90 percent of many European fish stocks are being fished unsustainably.
Now, however, serious reforms are being launched, thanks to Maria Damanaki, an EU Commissioner for Maritime Affairs and Fisheries, and the rest of the European Parliament.
Earlier this month, Parliament voted on various agendas including: reduce catch quotas to sustainable levels; cut subsidies and target them at fisheries that stay within the "maximum sustainable yield"; end the practice of fishing boats discarding a quarter of their catch, for more profitable and desirable species; and tighten lax enforcement of fisheries regulations.
"What we had in the past was an aggressive policy against fish stocks, the oceans, and the environment," Damanaki said in an interview with Yale Environment 360. "We need to change our policy if we want to continue to eat fish."
Joining Damanaki in the push for a radical overhaul of EU fisheries policies have been Ulrike Rodust, a Social Democrat from Germany, and Isabella Lövin, a Green Party member from Sweden. "Damanaki, Rodust, and Lövin are the three strong women behind fisheries reform," says Rainer Froese, a prominent marine biologist with the Geomar-Helmholtz-Center for Ocean Research in Germany.
In the coming weeks, the parliament, the Council of Europe, and the EU Commission will attempt to forge a joint strategy. The parliament wants to introduce a ban of discards starting in 2014. It sets 2015 as a deadline for managing fish stocks within the bounds of "maximum sustainable yield," with the aim of beginning to regenerate fish stocks by 2020.
However, strong opposition and push-back from fishing interests will tie up the decisions as European countries are already experiencing widespread unemployment, guarantees a battle to weaken Damanaki's and the Parliament's proposed reforms.
Read more at Yale Environment 360.
Fish image via Shutterstock.