The Red-Dead water conveyer can avoid a dead end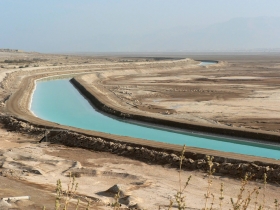 After a delay of more than six months, the World Bank has finally released the final drafts of the feasibility and environmental assessment studies for the controversial Red Sea-Dead Sea Water Conveyance project, designed to channel some 1.2 billion cubic metres of water 180 kilometres from the Red Sea to the Dead Sea.
The plan is to pump sea water from the Red Sea, pass it through a series of desalination plants, use the desalinated water for drinking, and discharge the brine to the Dead Sea, which should help restore it to its 20th century levels and prevent it from vanishing like the Aral Sea.
Although the studies recommend going ahead with the project they raise more questions than they answer, casting a shadow of uncertainty over its future.
Mixed reactions
The project was proposed in 2002 to save the Dead Sea from collapse, to quench the region's thirst by providing 850 million cubic metres of drinking water per year, and as an example of peaceful cooperation in the tense Middle East region.
But it has drawn polarised reactions. Critics warn that mixing the water from the Red Sea with the Dead Sea will have negative environmental consequences and use up energy that is already scarce and getting more expensive.
The Dead Sea is a unique ecosystem - it is the world's saltiest lake at the lowest altitude. Its surface is currently about 420 metres below sea level. Excessive use of tributary water from the Jordan and Yarmouk rivers has reduced its level by 27 metres since the 1960s, a trend exacerbated by climate change and increased evaporation.
In a typically engineering-based response, consulting firms commissioned by both Jordan and Israel proposed the Red-Dead canal as a solution. The final decision, however, would be based on economic feasibility and environmental assessment studies, according to the terms of reference for the World Bank study supported by various international donors.
Mixing problems
The seawater modelling exercises used in the studies indicate that it will be safe to discharge a maximum of 350 million cubic metres of sea water into the Dead Sea every year, but that any additional discharge will be detrimental to the environment.
Continue reading at SciDev.Net.
Dead Sea Canal image via Shutterstock.