Rising up to prepare for sea level rise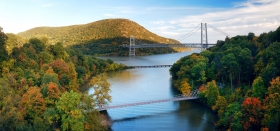 Situated among the trees and mountains along the scenic Hudson River, Kingston, New York seems far away from the salty blue waves of the Atlantic. Yet, just 100 miles inland from the World Trade Center, at the southern tip of Manhattan where New York meets the Atlantic, the Tidal Waterfront Flooding Task Force of the Kingston Conservation Advisory Council (CAC) has begun to plan a strategy to manage the inevitable effects of a rising sea. This volunteer advisory board, residents, community advocates, city officials, grassroots organizations, and State experts met with Catalysis Adaptation Partners to determine the impacts of storm surges and Sea Level Rise (SRL) on this historic town, the former capital of New York State.
The group first met with Mayor Shayne Gallo and the community at City Hall on December 6, 2012 to discuss the challenges the city faces from waterfront flooding and sea level rise in the Rondout, a historic downtown district. After Hurricane Sandy, it became evident that it was time to proactively address flooding challenges, including those related to SLR.
Sea level rise is caused by several factors such as higher water temperatures causing thermal expansion, melting ice caps, glaciers and ice sheets, and the slow sinking of the land surface in coastal regions of New York State. Effects are compounded by increases in extreme precipitation and strong storms associated with climate change. The Hudson River's flat elevation, only a gain of five feet in over 150 miles, allows the tidal energy to travel north to Troy, New York. 
According to the New York State of Environmental Conservation, the Mid-Hudson Valley and Capital Region can expect one to nine inches of SLR between now and about 2020, and up to 50 inches by the end of the century. Predictions for Kingston range from an elevated flood height of 6 feet now to 8.2 feet by 2060.
For towns like Kingston, which were developed as a river transport community in the 1700s and dependent on low-lying river access, rising water levels prove to be a challenge. On the same day as the March CAC meeting, a normal rainstorm caused East Strand Street, a through street, to be closed due to impassable water levels. Workshop attendees even had to move their cars to avoid flooding. In addition to being flooded, roads and other infrastructure such as railroads and sewage lines were also damaged in the weeks and months that followed.
Continue reading at EarthPeople.
Hudson River image via Shutterstock.