New Emissions/Gas Mileage Standards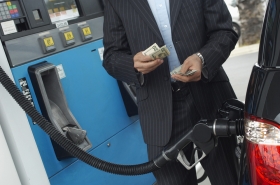 Once again, the EPA is tightening the fuel efficiency standards for autos and light trucks. It is also tightening the emissions limits that new vehicles will have to meet. This is, in general, a good thing since it will reduce gas consumption, and also reduce air pollutant emissions. Of course, not everyone is happy about this action. And the economic analysis of the cost/benefits seems to be overly optimistic. 
According to the EPA, the proposal supports efforts by states to reduce harmful levels of smog and soot and eases their ability to attain and maintain science-based national ambient air quality standards to protect public health, while also providing flexibilities for small businesses, including hardship provisions and additional lead time for compliance.
EPA Acting Administrator Bob Perciasepe said "Today's proposed standards – which will save thousands of lives and protect the most vulnerable -- are the next step in our work to protect public health and will provide the automotive industry with the certainty they need to offer the same car models in all 50 states."
Throughout the development of the proposal, EPA met with representatives from the automotive and oil and gas industry as well as environmental, consumer advocacy and public health organizations. Based on initial feedback from these groups and a thorough rulemaking process, EPA's proposal is estimated to provide up to seven dollars in health benefits for every dollar spent to meet the standards. The proposed sulfur standards will cost refineries less than a penny per gallon of gasoline on average once the standards are fully in place. The proposed vehicle standards will have an average cost of about $130 per vehicle in 2025. The proposal also includes flexibilities for small businesses, including hardship provisions and additional lead time for compliance.
The proposed standards will reduce gasoline sulfur levels by more than 60 percent – down to 10 parts per million (ppm) in 2017. Reducing sulfur in gasoline enables vehicle emission control technologies to perform more efficiently. This means that vehicles built prior to the proposed standards will run cleaner on the new low-sulfur gas, providing significant and immediate benefits by reducing emissions from every gas-powered vehicle on the road.
Photo of man paying for gas via Shutterstock.