Aerosols Confirmed Rising Over India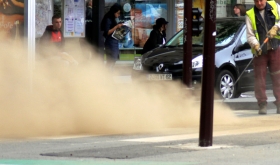 While satellite data has shown aerosols — tiny polluting particles in the air — to be rising over India, a new study based on primary data gathered from measuring instruments installed in a network of stations confirms the trend. The study, by a team from the Vikram Sarabhai Space Centre, Thiruvananthapuram, and Indian Institute of Science (IISc), Bangalore, published online in Geophysical Research Letters last month (14 March), is based on the principle that aerosols absorb the sun's rays as they reach the earth's surface.
The amount of aerosols in the air can be measured as aerosol optical density (AOD). A 2011 study, reported in Atmospheric Environment, also found a rising trend in AOD based on data gathered from two US satellites.
But, satellite data often do not give reliable estimates due to cloud formation, different degrees of reflection off different types of surfaces and erroneous interpretation of noises and biases in aerosols as legitimate signals, scientists observed.
Article continues at Indian Aerosols.
Dust Aerosol image via Wikipedia.