The $40 Billion in US Buildings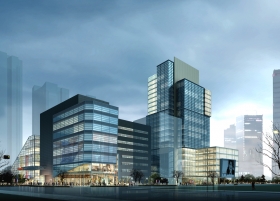 A pretty big wad of money – $40 billion – is hiding somewhere inside the lights, AC, thermostats, furnaces and fans of our offices, stores, hospitals and schools.
That's the amount of money the federal government estimates we can save annually by reducing energy use in commercial buildings 20 percent by 2020. To achieve the goal, the Obama administration in 2011 initiated the Better Buildings Challenge, a way to encourage investment, share information and create demonstration projects that save energy.
It's no small effort. Finding energy savings in buildings can be a Where's Waldo-style mission. Hidden from view are faulty valves and switches, lighting controls that don't jive with human activity, and malfunctioning appliances that suck up energy.
But the federal program – along with other state, city and corporate efforts – are leading to intriguing technologies and demonstration projects.
In Seattle, a building that describes itself as the world's greenest, opened April 22. The 50,000 square-foot Bullitt Center is designed to be 83 percent more efficient than is typical. But it isn't stopping there. Its owners want to achieve complete energy and water self-sufficiency over a year.
The Bullitt Center is engaging in a certification process called the Living Building Challenge, one of the toughest badges of honor for a building to achieve. The standard goes beyond just saving energy and water, and requires that the building helps restore the natural environment.
Of course the Bullitt Center has solar panels, occupancy sensors and data displays that show energy use and emissions – all that you would expect of a contemporary green building. But it also has other interesting design elements. The building's mechanical workings are in plain view so everyone inside can better see what's going on. Ninety percent of the lighting is natural. Tenants must adhere to electricity budgets as a term of the lease, and they share in any net metering profits the building accrues. The structure is heavy timber, not the usual steel or concrete of most office buildings. Water will come only from rain treated onsite.
The design nudges occupants toward energy conservation in various ways. For example, the stairway offers spectacular views meant to discourage use of the elevator. "There is no such thing as a net-zero building, only net-zero occupants," said Luke McKneally, solar engineering project manager, who was quoted in a Bullitt Center blog by Brad Khan.
Continue reading at Clean Techies.
Building image via Shutterstock.