Volcano in Philippines Erupts, Killing Tourists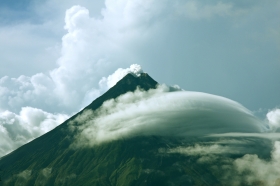 Three German tourists and their Filipino tour guide were crushed to death when one of the Philippines' most active volcanoes spewed a giant ash cloud and a hail of rocks on Tuesday, authorities said.
Up to 20 foreigners and their guides were on the slopes of picturesque Mount Mayon when it erupted without warning, and rescue workers had been dispatched on helicopters to search for survivors, officials and a tour operator said.
"It rained like hell with stones," local tour operator Marti Calleja quoted an Austrian woman who survived the ordeal as saying.

"The rocks that came crashing down on them were as big as dining (table) sets," he told AFP by phone.
Calleja said three Filipino guides from his firm and five foreigners had begun hiking up Mayon just a few hours before the eruption, which sent a thick column of ash 500 metres (1,600 feet) into the air.
Three Germans and one of the guides from his group were killed, while the Austrian woman suffered minor bruises, according to Calleja.
Mount Mayon photo via Shutterstock.
Read more at Discovery News.