The Tesla Model S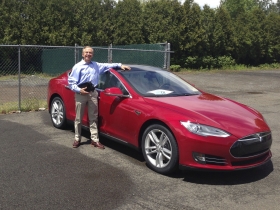 The new all-electric Tesla S sedan is not just the favorite of car magazines, now Consumer Reports calls it the best car they've ever driven, scoring 99 points of 100 and beating out the Lexus LS460 that held the previous record back in 2007. What does this massive battery-powered EV have that no others do?
"It handles like a sports car, it rides like a luxury car, it has the energy efficiency that is twice as good as the best hybrids and is the quietest car we've ever tested," said CR tester Gabe Shenhar. "It does so many things so right on so many levels that to us it wasn't a surprise."

Perhaps that's why Tesla Motors has sold more cars during the first quarter of 2013 than luxury German automakers, Mercedes-Benz, BMW and Audi, prompting the Palo Alto-based firm to declare its first-ever profit and raise expected sales for 2013 from 20,000 to 21,000.
Shenhar said that Tesla started from scratch. It engineered an electric vehicle around a larger battery that gives it a range of more than 200 miles (265 miles with the upgraded 85 kilowatt/hr lithium-ion battery). All other EVs -- such as the Nissan Leaf, Ford Focus, Honda Fit -- can only travel 60 to 80 miles before charging up. The closest competitor is the Toyota Rav 4 EV with a 103 mile range, according to the Department of Energy.
Tesla has also installed its own network of super-fast chargers along the East Coast corridor between Washington and Boston, as well as in California. It gives drivers in these areas the advantage of a 30 minute charge, instead of a six-hour overnight fill up at home.
Consumer Reports magazine said driving a Tesla S "is like crossing into a promising zero-emissions future. ... It's what Marty McFly might have brought back in place of his DeLorean in 'Back to the Future.'"
Publishers disclaimer: I own a Tesla Model S and some Tesla stock. I agree with the thrust of this article.  Once you drive a good EV, all other cars seem somehow out of date! Photo shows me at the delivery of my Model S.
Read more at DiscoveryNews.