New Study Predicts Significant Global Warming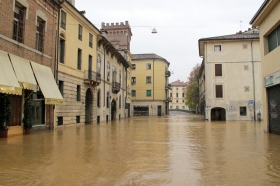 A new study by Australian scientists projects that the world will likely warm between 2 and 6 degrees Celsius (3.6 to 10.8 degrees Fahrenheit) from pre-industrial levels by 2100. The study published in Nature Climate Change finds that exceeding the 2-degree threshold is very likely under business-as-usual emissions scenarios even as scientists have long warned that passing the 2-degree mark would lead to catastrophic climate change.
"This study ultimately shows why waiting for certainty will fail as a strategy," lead author Roger Bodman from Victoria University said. "Some uncertainty will always remain, meaning that we need to manage the risks of warming with the knowledge we have."
According to the research the wide temperature range (2-6 degrees Celsius) is due to three factors: climate sensitivity to greenhouse gas emissions, the unpredictability of the carbon cycle, and aerosols, which cool the planet. These three factors "remain highly uncertain," the researchers write, "but historical observations of temperature and carbon dioxide imply a trade–off between them so that temperature projections are more certain than they would be considering each factor in isolation."
Using historical data on carbon dioxide concentrations and temperature changes, the researchers employed a simplified climate model to predict how much more the Earth is likely to warm over the next 87 years. Already the Earth has warmed around 0.8 degrees Celsius (1.44 degrees Fahrenheit) over the last hundred years. This warming has led to shrinking glaciers, vanishing Arctic sea ice, increased risk of floods and drought, more extreme storms, and rising sea levels.
Flooded city streets image via Shutterstock.
Read more at ENN Affiliate, MongaBay.