New pirate ant uses sickle-shaped mandibles to decimate rivals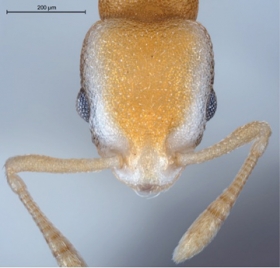 A new species of ant has recently been discovered in the Hortarium of the Los Baños University in the Philippines. Scientists named it the pirate ant (Cardiocondyla pirata) due to the female's unique pigmentation pattern: a distinctive stripe across the eyes that resembles a pirates' eye-patch. The pirate ant belongs to a genus Cardiocondyla that are distributed worldwide, but mainly found in the tropics.
Scientists are currently unsure why the females possess this distinctive eye-marking.
Back in 2008, during a field study of Cardiocondyla ants for her PhD thesis from the Universität Regensburg, Sabine Frohschammer and her colleague, Dr. Bernhard Seifert from the Senckenberg Museum für Naturkunde Görlitz, discovered this new species of ant by chance – between the cleavage of a big stone in a shady rainforest bed. Only later, through a magnifier, did Frohschammer and Seifert realize that these Cardiocondyla ants looked different from others, however it took a stereomicroscope (a microscope that allows an object to appear in three dimensions) for the pair to realize these ants may be a whole new species entirely.
For further information see Pirate Ant.
Worker Ant image by Bernhard Seifert and Sabine Frohschammer. via Los Banos University.