Increased grazing helps improve soil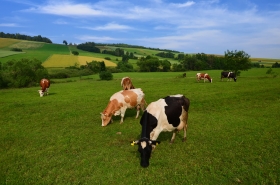 The world's soil is in trouble. Ecologists say without dramatic changes to how we manage land, vast swathes of grassland are at risk of turning into hard-packed desert. To make sure that doesn't happen, researchers are testing out innovative ways to keep moisture in the soil.
In eastern Colorado, one way could be in the plodding hooves of cattle.
Conventional wisdom tells you that if ranchland ground has less grass, the problem is too many cows. But that's not always the case. It depends on how you manage them, if you make sure they keep moving.
"Plants actually respond to grazing. It actually stimulates growth in some ways," said William Burnidge, an ecologist with the Nature Conservancy. Burnidge runs the Conservancy's Colorado grassland program, which includes a 14,000-acre nature preserve and working commercial cattle ranch, the Fox Ranch.
A few miles west of the Kansas border in Yuma County, Colo., the land stretches north and south along a band of the Arikaree River, a tributary of the Republican River. The ranch, owned by the Nature Conservancy and leased to local rancher Nathan Andrews, is part of a grand experiment. Researchers are putting in practice something called holistic management, or planned grazing.
"When I learned about it, that style of grazing, the basis was everybody was producing more grass," said Andrews, a fifth-generation cattle rancher in eastern Colorado. "It's hard, as a producer, to argue with more grass. Because we never have enough grass."
Grazing cows image via Shutterstock.
Read more at NPR.