Start-up promises to revolutionise shrimp farming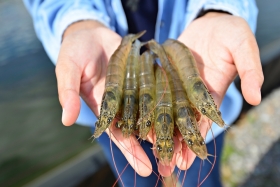 A UK start-up says it has developed a low-cost, ecological alternative to traditional shrimp farming by using bacteria as both a water filter and food for its shrimp.
IKEA-like portable units using microbes and solar power to cheaply grow shrimp indoors could transform the booming aquaculture sector and prevent further environmental degradation, according to its inventors.
If made available to farmers in developing countries, the technology could help tackle malnourishment while reducing environmental degradation, and all at a lower cost than current shrimp production, they say.
Founded by biochemical engineering students from University College London, the start-up Marizca is producing whiteleg shrimp in central London in its first trial operations.
Global production of farmed shrimp has been growing at about ten per cent a year, according to conservation charity the World Wildlife Fund, and farmed shrimp now accounts for about 55 per cent of global shrimp production.
But the industry has been criticised over the past decade for environmentally damaging practices, that that lead to the destruction of mangrove forests and pollution caused by effluent from shrimp ponds.
Marizca co-founder Leonardo Rios says the firm's indoor units will avoid the problems caused by creating outdoor shrimp farms in fragile environments.
While such indoor facilities are normally expensive to run, Rios says the use of water-purifying bacteria in their units means less water and energy is needed. Also, the microorganisms meet up to 30 per cent of the shrimp's food needs.
"The bacteria eat the shrimp waste and, at the same time, the shrimp eat the bacteria when they have reached a certain size," he says. "It makes producing shrimp a lot cheaper."
Using microorganisms in aquaculture — a technology called biofloc — is not new.
Several such operations exist worldwide, but so far they have had limited reach, according to Michael Phillips, a researcher at WorldFish, a non-profit aquaculture research centre.
"Biofloc is not yet widely applied because the technology is not yet perfected or even widely available," he says.
What is new about Marizca's biofloc technology is the use of a "unique" starch source, according to Rios. He says the starch helps create prolific microorganism growth.
Current interest in biofloc stems from a research drive to find an alternative food source for farmed shrimp. According to Phillips, most shrimp farms rely on industrial feed made partly from fishmeal, a practice that many see as unsustainable.
Read more at SciDevNet.
Shrimp image via Shutterstock.