Key European Wildlife Populations Make a Comeback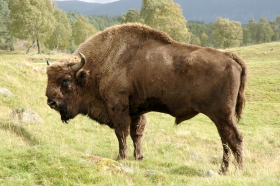 Populations of some of Europe's key animals have increased over the past 50 years, according to recent research.
Species recovery
Through studying a total of 18 mammal and 19 bird species found across Europe, researchers found that key species, including grey wolves, brown bears and eagles, have increased in number in recent decades. This is welcome news for conservationists, as European animals have not always fared so well over the course of the last few centuries, with habitat loss, pollution and hunting all contributing to the decline of some of the continent's most charismatic species.
The report, commissioned by conservation group Rewilding Europe, found that all species studied, with the exception of the Iberian lynx, have increased in number since the 1960s. The European bison, Eurasian beaver and white-headed duck were among some of the species whose populations had increased by more than 3,000% in the last 50 years, while several top predators such as the brown bear have doubled in number. The iconic grey wolf has seen serious losses in the past, but this latest research has shown positive progress in its conservation, with numbers climbing by a promising 30%.
Conservation works
"People have this general picture of Europe that we've lost all our nature and our wildlife," said Frans Schepers, Director of Rewilding Europe. "I think what the rest of the world can learn from this is that conservation actually works. If we have the resources, a proper strategy, if we use our efforts, it actually works."
The comeback of European wildlife began in the 1950s and 1960s, and although numbers aren't anywhere near those present in the 1600s and 1700s, conservationists are encouraged by the increasing populations. It is thought that various factors have contributed to the boost in animal numbers, including better legal protection and hunting limits. In addition, more and more people are moving away from the countryside in favour of cities, leaving more space for wildlife.
Successful areas
Analysis of the research, carried out by the Zoological Society of London (ZSL), BirdLife and the European Bird Census Council, found that the south and west of Europe showed the largest comeback for mammals, with the ranges of these species increasing by an average of about 30%. For bird species, average ranges remained stable.
Continue reading at ENN affiliate, ARKive.org.
European bison image via Shutterstock.