Climate change could increase diarrheal disease in Botswana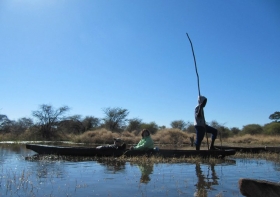 Climate change may increase the incidence of diarrheal disease in Botswana, according to a recent study in the International Journal of Environmental Research and Public Health.
"Diarrheal disease is a very important public health problem in Botswana," said lead author Kathleen Alexander, who led a unique 30-year analysis (1974-2003) on the incidence of diarrhea in Botswana. "As a water-restricted country, Botswana is predicted to be heavily impacted by climate change. I wanted to understand how climate change might influence this already critical problem and what mitigation action was necessary to avert potential impact on human health."
Nearly 760,000 children, under the age of 5, die annually from diarrheal disease, making it the 2nd leading cause of death for that age group. Children that live in communities lacking improved drinking water and sanitation are especially vulnerable. According to the World Health Organization (WHO), 780 million people do not have access to improved drinking water and 2.5 billion do not have access to improved sanitation.
Alexander and her colleagues looked at visits to health clinics and various climate and meteorological measures to identify any possible associations. They found that diarrheal instances in the dry-season (April-September) were an average of 20% higher than instances in the wet season. This result was a surprise. Researchers suspected diarrhea incidences would be higher in the wet season. The particulars of 'why' diarrhea is worse during the dry-season, remains unanswered. Currently, the hypothesis is the increased fly population during the dry-season contributes to disease transmission.
With only three permanent sources of surface water, aquifers, and rainfall to supply the entire population of Botswana, water scarcity and water quality are ongoing problems in the southern African nation. Botswana declared 2013-14 a drought year due to the low amount of rainfall. Lower crop yields, potentially leading to food shortages, may increase the likelihood of higher than usual drought-related deaths. Young children under the age of five are especially vulnerable to the environmental stress of a poor harvest. The degree to which Botswana's experienced increased droughts in the last 36 months has fluctuated. Even when water is available, it's quality frequently contributes to health problems (e.g., diarrhea, trachoma, and intestinal worms).
Read more at MONGABAY.COM
Okavango Delta image via Deb Goldberg, ENN.com