It's not easy being green – unless that is, you live on a boat. Part IV.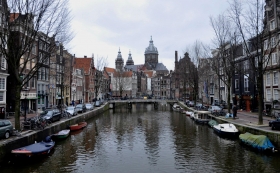 In her fourth and final blog Clare Kendall recommends trying a boat holiday - which tend to have serious green credentials........
If you've been inspired by the thought of canal boat living (see my previous blogs) why not try a narrow boat holiday. It's one of the greenest holiday options you can take.
In the UK you're never far from a canal. In fact, if you live in the Potteries area of the Midlands you'll know you can't drive for five minutes without crossing one.
This means you'll be travelling a shorter distance to get to your holiday destination and almost certainly not flying. If you took a train to the marina, even better.
Once there, even if you've driven, you will leave your car behind, so there will be no further mileage until you go home. You will, of course, need diesel to power your canal boat engine, but as outlined in my previous blog, the engine will also provide all your electricity though-out your holiday and because canal boat engines tend to be fairly low in horse power (20-50hp) they are usually quite fuel efficient.
You will consume less energy, water usage will be minimal and you'll be self-catering.
The average hotel stay results in carbon emissions of nearly 30kg, flying to a resort like Alicante, the same. According to the World Tourism Organization (UNWTO), the travel and tourism sector accounts for 5% of global CO2 emissions with accommodation comprising 20% of this figure.
Karen and Richard Holt have run Leeds and Liverpool based hire company Canal Boat Escapes for the last six years. They have taken things one step further and actively encourage their customers to be as environmentally aware as possible. For the last two years they have gained silver in the Green Tourism Business Scheme and a number of other regional awards.
"We provide each boat with a recycling box" explains Karen. "And we have facilities here at the marina. We even have an extra recycling bin at our house so that if the marina one fills up we can bring it home.
"We promote local food shops and the farmers' market at Skipton which is on every Sunday and we encourage people to bring bicycles so they can explore and shop locally."
Read more at The Ecologist.
Canal image via Debra Goldberg, ENN.com