Abengoa's Gigantic "Salt Battery" Stores Utility-Scale Solar Energy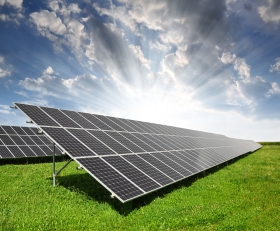 The global solar company Abengoa Solar has just announced that its massive Solana solar power plant has begun commercial operation in Arizona. The plant represents a transformational breakthrough in utility scale solar power, because it includes an energy storage system based on molten salt. The storage feature enables the plant to keep generating electricity long after the sun goes down.
Solana is also noteworthy because it puts yet another feather in Arizona's already impressive cap of solar power projects. The continued growth of the Arizona solar power sector is a bit of a surprise given the conservative leanings of Governor Jan Brewer and other public officials in the state, so it's worth taking a look at Solana in that context.
Abengoa brings night-time solar power to the U.S.
Abengoa has already established a track record of utility scale solar power plants overseas and it has just secured financing to build the largest concentrating solar power (CSP) plant of its kind in Europe. In terms of keeping up with the Joneses, the Solana plant helps the U.S. – and Arizona – keep its solar profile in the global spotlight.
CSPs use mirrors to concentrate solar energy on a focal point, typically a large tower. According to Abengoa, at 280 megawatts the Solana plant is the world's largest CSP plant to use parabolic trough mirrors to concentrate solar energy (typical CSP mirrors, called heliostats, are flat and quadrilateral).
Read more at Triple Pundit.
Solar panel image via Shutterstock.