Oregon Soup Factory Stops Production Monthly to Feed the Hungry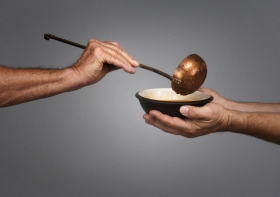 Chuck Eggert is passionate about food. As CEO and founder of Oregon-based natural foods label Pacific Foods, he oversees production of nutritious and tasty staples such as organic broths, non-GMO soups and vegan favorites like almond milk. Though he loves dreaming up new concoctions for his customers, perhaps even closer to the Northwest native's heart is his quest to combat hunger in his home state.
"I deliver food every other week, and all you have to do is go deliver food to understand the need," he told Triple Pundit, recalling times when he visited a neighbor and found only a bottle of water in his refrigerator. "It is something that unfortunately a lot of us don't do directly, and it's such an important issue."
Along with devoting his own time to deliver food with his local church, Eggert uses his company to fight hunger on a much larger scale by donating more than 1 million pounds of food per year to the Oregon Food Bank. Recently, the company took the arrangement one step further by committing monthly production time at its Tualatin, Ore. facility to produce a minimum of 24,000 cartons of soup per month exclusively for the food bank – totaling about 576,000 free meals a year.
The soup, which is packaged in shelf-stable cartons, allows local food banks to transform perishable produce into nutritious product that can last for months on pantry shelves. Each month, the chefs at Pacific are challenged with a list of ingredients collected by the food bank – everything from extra meat and produce to powdered milk. Once, the company even whipped up a "Cream of French Fry" soup from 100,000 pounds of frozen French fries.
Read more from our affiliate Triple Pundit.
Soup image via Shutterstock.