Ice Cores may yield 1.5 million year climate record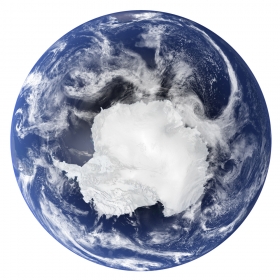 How far into the past can ice-core records go? Scientists have now identified regions in Antarctica they say could store information about Earth's climate and greenhouse gases extending as far back as 1.5 million years, almost twice as old as the oldest ice core drilled to date.

The results are published this week in Climate of the Past, an open-access journal of the European Geosciences Union (EGU).
By studying the past climate, scientists can understand better how temperature responds to changes in greenhouse-gas concentrations in the atmosphere. This, in turn, allows them to make better predictions about how climate will change in the future.
"Ice cores contain little air bubbles and, thus, represent the only direct archive of the composition of the past atmosphere," says Hubertus Fischer, an experimental climate physics professor at the University of Bern in Switzerland and lead author of the study. A 3.2-km-long ice core drilled almost a decade ago at Dome Concordia (Dome C) in Antarctica revealed 800,000 years of climate history, showing that greenhouse gases and temperature have mostly moved in lockstep. Now, an international team of scientists wants to know what happened before that.
At the root of their quest is a climate transition that marine-sediment studies reveal happened some 1.2 million years to 900,000 years ago. "The Mid Pleistocene Transition is a most important and enigmatic time interval in the more recent climate history of our planet," says Fischer. Earth's climate naturally varies between times of warming and periods of extreme cooling (ice ages) over thousands of years. Before the transition, the period of variation was about 41 thousand years while afterwards it became 100 thousand years. "The reason for this change is not known."
3D Earth image via Shutterstock.
Read more at ScienceDaily.