Pine Island Glacier is shrinking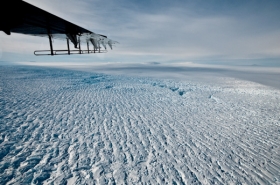 Pine Island Glacier, the largest single contributor to sea-level rise in Antarctica, has started shrinking, say scientists.

The work, published in Nature Climate Change, shows the glacier's retreat may have begun an irreversible process that could see the amount of water it is adding to the ocean increase five-fold.
'At the Pine Island Glacier we have seen that not only is more ice flowing from the glacier into the ocean, but it's also flowing faster across the grounding line - the boundary between the grounded ice and the floating ice. We also can see this boundary is migrating further inland,' says Dr G. Hilmar Gudmundsson from NERC's British Antarctic Survey (BAS), a researcher on the project.
The team, which included scientists from the CSC-IT Center for Science in Finland, the Chinese Academy of Sciences and the Universities of Exeter and Bristol, used three computer models as well as field observations to study how the glacier's ice flows and to simulate how this will change over the coming decades.
'Not only is more ice flowing from the glacier into the ocean, but it's also flowing faster' says Dr Gudmundsson, BAS
All the models agreed that the Pine Island Glacier has become unstable, and will continue to retreat for tens of kilometres.
'The Pine Island Glacier shows the biggest changes in this area at the moment, but if it is unstable it may have implications for the entire West Antarctic Ice Sheet,' says Gudmundsson. 'Currently we see around two millimetres of sea level rise a year, and the Pine Island Glacier retreat could contribute an additional 3.5 - 5 millimeters in the next twenty years, so it would lead to a considerable increase from this area alone. But the potential is much larger.'
Photo shows East Side Rifts Pine Island Glacier, Antarctica.
As Pine Island Glacier accelerated over the last decade, an accompanying series of large rifts (deep features in transition region from crevassed to smooth surface) developed on the east side of the shelf near the grounding line (see location map). A larger set of rifts formed on the western side of the shelf over the same period. Credit Washington University.
Read more at Planet Earth online.