Building Green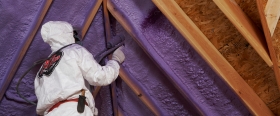 In a world which faces increasing pressure to reduce carbon emissions, the construction industry must confront demand to adopt modern methods of building which causes less damage to the environment. As a result, there are increasing numbers of alternative materials and methods available, a selection of which are included in this post. While these methods are by no means the only ones available within the industry, the selected materials and methods include: 
-Metallic paint
-Chemical containment
-Spray-on insulation
-Concrete alternatives
-Green roofs
Each method boasts the more efficient properties in terms of reducing environmental damage, with the least change to standard methods.
Metallic paint
Until relatively recently, metallic paint has largely been used in agricultural and industrial structures, to protect corrugated sheeting from weakening in exposed sunlight. However, this simple addition has been recognized as a cost-effective method of increasing the lifespan of building materials.
Chemical containment
There is no end to the amount of damaging chemicals present on a construction site, whether that's bitumen, varnish or even paint. When you're dealing with chemicals that could cause damage to the environment, especially in large quantities, it's important to take measures to contain these substances as much as possible.
An eco spill pallet, available from industrial suppliers, is a relatively simple and affordable piece of equipment for a building site, which could have a big impact on your efforts to be more environmentally friendly. Use it to store chemicals and drums, and contain leakages and spills with little fuss.
Spray-on insulation
Insulation is a vital part of any build that strives to be as efficient and as green as possible. While traditional materials like fiber roll insulation boast effective thermal properties, newer and more innovative techniques such as spray on insulation offer even more benefits and efficient insulation. Walltite is one such example, which utilizes a spray on application to create an airtight layer design for internal walls, floors and roofs.
Concrete alternatives
Recycled building materials are becoming much more common place, as construction firms strive to be environmentally friendly.
Concrete production accounts for around 5% of all carbon emissions, so this is a key area of focus for cutting emissions in the industry. Alternatives such as honeycomb blocks are increasingly common, especially in continental Europe, and boast lightweight, insulating designs, without the associated carbon output.
Read more at ENN affiliate Click Green.
Walltite spray-on insulation image via Insta-insulation.