Ford to release electric Focus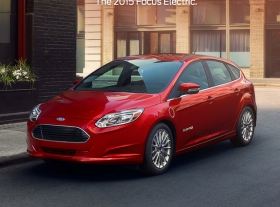 Ford has already confirmed plans for a new 2015 Focus Sedan although the introduction of a Ford Focus Electric car in New York next week did take some experts by surprise. While the company has been relatively successful with regards to its alternative power supply vehicles, the introduction of the Focus Electric seems to be low key to say the least.
The press release which accompanied next week's launch did much to wax lyrical about the Ford Sedan but there was very little in the way of mention about the Ford Focus Electric. This has prompted speculation as to whether Ford has an "ace up its sleeve" or indeed whether it is playing down the electric car launch because it may well be a token gesture on the company's behalf?
As the electric car market continues to grow, government subsidies continue to rise and demand improves, we can fully expect an array of new electric vehicle launches in the coming months and years. We already have the basis for an interesting 2014 and 2015 is now beginning to take shape with the latest entry being the Ford Focus Electric. Whether the Ford Focus Electric will live up to the high expectations of the electric vehicle community remains to be seen -- it is rather bizarre to find that Ford is underplaying this launch?
Quote from ElectricForum.com: "Is this the car which opens the door to a revival at Ford?"
It is also worth noting that improving technology, extended journey capacity as well as ongoing price reductions are also playing their role in the future shape of the industry. While it would be foolish to suggest that EV sector is on the verge of mass production, there is no doubt that we have seen a reduction in component prices and the cost of technology.
Photo credit Ford.
Read more at ENN Affiliate, ElectricForum.