Toledo, Ohio water problems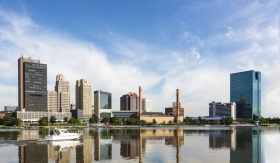 The City of Toledo has issued a "Do Not Drink" advisory for residents served by Toledo Water after chemical tests confirmed the presence of unsafe levels of the algal toxin Microcystin in the drinking water plant's finished water. The advisory, spanning three counties in Ohio and one in Michigan, leaves more than 400,000 people in the Toledo area without drinking water.
"Do not drink the water," Melanie Amato, public information officer for the Ohio Department of Health, told Circle of Blue. "You can shower in it, bathe in it, but do not try to ingest it. That means no washing dishes; you can brush your teeth with it as long as you don't swallow any water, but we recommend using bottled water for that as well."
The Toledo advisory was posted at 2:00 Saturday morning. Ohio governor John Kasich soon announced a state of emergency to mobilize more resources for the city.
Other emergency measures also became apparent across northwest Ohio:
Stores sold out of bottled water, sending residents into neighboring cities and Michigan to find supplies.
Local restaurants, universities and public libraries closed.
Several nearby municipalities that have not been affected by the toxin are offering water to Toledo residents free of charge.
The National Guard is charged with delivering 300 cases of bottled water from Akron, Ohio, as well as Meals Ready to Eat (MRE's) for distribution to homeless shelters and other vulnerable populations who are unable to cook with their water.
Humanitarian organizations like the American Red Cross are responding, manning water distribution centers and providing water delivery assistance to homebound residents.
Toledo, Ohio skyline image via Shutterstock.
Read more at Circle of Blue.