New Jersey bans Ivory sales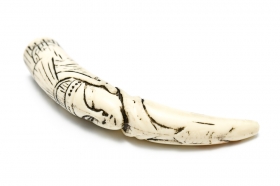 The state of New Jersey has enacted a statewide ban on sales of Ivory.
The following statement was issued by John Calvelli, WCS Executive Vice President of Public Affairs and Director of the 96 Elephants Campaign:
"Today is an historic day for elephants and conservation. The Wildlife Conservation Society and the 96 Elephants campaign praises N.J. Governor Chris Christie for signing into law a statewide ban on ivory sales."
"Elephants are threatened today by illegal hunting for their ivory. Every day in Africa, about 96 elephants are killed illegally for their ivory. This is causing population declines across large swathes of the continent. A major challenge to halting the illegal ivory trade is the lack of effective law enforcement controls along the trade chain from Africa, through the transit states, and to the end consumer markets. Legal domestic ivory markets are an enforcement challenge and provide cover for laundering of ivory from elephants killed illegally in Africa. Once ivory is within a country's borders, it becomes almost impossible to distinguish legal from illegal ivory. As long as demand for ivory remains high and enforcement efforts are low, the legal trade will continue to serve as a front and criminal syndicates will continue to drive elephant poaching across Africa. Today's ban is a major step in ending this trade that currently threatens elephants with extinction across much of their range."
The recent federal ivory ban enacted by the Obama Administration is an excellent first step in stopping trade into the U.S and between states. However, state moratoria are still needed to close loopholes not covered in the federal ban. Only through federal and state cooperation will we truly end the ivory trade in the U.S., which has one of the largest ivory markets in the world.
Recent efforts to weaken the federal ban by the anti-ivory ban groups make it more important than ever for states to stand up and show that there is broad based support for this effort across the country.
Carved Ivory tusk image via Shutterstock.
Read more at Wildlife Conservation Society.