The Spotted Lanternfly, colorful invader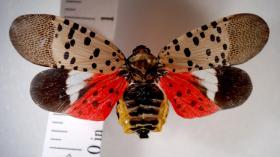 The spotted lanternfly has officially arrived in the U.S., and leaders in Pennsylvania are hoping it won't be staying long. The invasive pest poses a threat to fruit orchards and grape vines, along with forests and the timber industry. It was detected in Berks County, northwest of Philadelphia.
"Berks County is the front line in the war against Spotted Lanternfly," Agriculture Secretary George Greig said in a news release. "We are taking every measure possible to learn more, educate the public and ourselves and eliminate this threat to agriculture."
The insect is native to parts of China and eastern Asia. It attacks trees by feeding on sap and harms them further by excreting large amounts of a fluid that coats leaves and stems and encourages the growth of mold, according to researchers.
Pennsylvania announced both the insect's discovery and a quarantine to contain it in a bulletin Saturday, saying that in the U.S., the spotted lanternfly "has the potential to greatly impact the grape, fruit tree and logging industries." The agriculture agency added that along with pines and stone fruit trees (such as peaches), the pest attacks "more than 70 additional species."
Photo credit: Holly Raguza/Pennsylvania Department of Agriculture
Read more at NPR.