How would you feel if electric vehicles were the only ones allowed in center cities?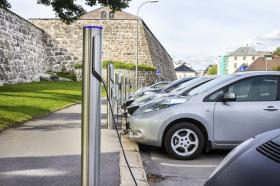 The subject of making electric vehicles compulsory in city centres in the UK, and indeed many other areas of the world, is one which keeps popping up time and time again. The Liberal Democrat party in the UK has been pushing for greater adoption of electric vehicles within city centres and, don't shout this, a ban on diesel and petrol vehicles. This is now something of a hot topic and one which will continue to appear in the political domain as we approach general and local elections.
How would you feel about making city centres a no-go area for petrol and diesel vehicles? Is electric vehicle technology of sufficient reliability to support such a dramatic and controversial move?
If we look back 40 or 50 years ago the argument was whether vehicles powered by diesel and electric were making any contribution to air pollution whatsoever. The situation today is very different and all parties agree that non-electric vehicles are pumping out a number of pollutants which are causing major problems within city centres with regards to air pollution. The quality of air in and around city centres is impacted more than any other areas simply because there is limited space, limited airflow and the pollutants tend to hover over the city like a bad smell.
Air pollution within city centres has been linked to an array of health conditions such as asthma and other breathing issues. When you bear in mind the cost and the impact of such health conditions on the individual and health services, perhaps we should now be looking towards diesel and petrol free city centres?
Quote from ElectricForum.com: "The reputation of BMW is based upon luxury therefore many people are now asking the question, would you buy an electric powered BMW? Is BMW Daimlers joint-venture just a way to placate the green movement? Would an electric BMW be a mass-market seller?"
EV's at free charging stations image via Shutterstock.
Read more at ENN Affiliate, ElectricForum.