Fish Distribution Influenced by Fishing and Climate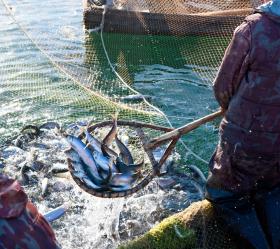 Scientists studying the distribution of four commercial and recreational fish stocks in Northeast U.S. waters have found that climate change can have major impacts on the distribution of fish, but the effects of fishing can be just as important and occur on a more immediate time scale.
The four species studied– black sea bass, scup, summer flounder, and southern New England/Mid-Atlantic Bight winter flounder – have varied in abundance and have experienced heavy fishing pressure at times over the past 40 years. Scientists examined the distribution of the four species using Northeast Fisheries Science Center (NEFSC) research trawl survey data collected between 1972 and 2008. Generalized additive models were used to determine if the distributions of the four species had changed over time, and if these changes reflect changes in temperature or fishing pressure.
The researchers found that black sea bass, scup, and summer flounder exhibited significant poleward shifts in distribution in at least one season. The shifts in black sea bass and scup were related to temperature, while the shift in summer flounder was related to a decrease in fishing pressure and an expansion of the population age structure. The southern New England/Mid-Atlantic Bight stock of winter flounder showed no change in distribution.
"The study combined a range of resources at the Center, long-term oceanographic data and trawl survey data," said Richard Bell, a National Research Council research associate working at the NEFSC's Narragansett Laboratory in Rhode Island and lead author of the study. "Using these data, we demonstrated how a combination of fishing and climate can influence the distribution of marine fish. It is not one or the other."
Increasing ocean temperatures have significantly affected marine life, inducing shifts in distribution and changes in abundance. Climate change alters the distribution of suitable habitats, forcing organisms to move to a more favorable area of their range or attempt to survive under less than ideal conditions. Fishing reduces the abundance of marine populations and truncates their size and age structure, which can lead to range contractions or shifts.
Continue reading at NOAA Newsroom.
Fishing image via Shutterstock.