California's regulations on diesel trucks are having a positive impact on air pollution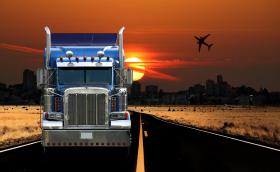 Ever wonder what's in the black cloud that emits from some semi trucks that you pass on the freeway? Lawrence Berkeley National Laboratory (Berkeley Lab) scientist Thomas Kirchstetter knows very precisely what's in there, having conducted detailed measurements of thousands of heavy-duty trucks over months at a time at two San Francisco Bay Area locations.
With a specially outfitted research van equipped with sophisticated monitors for several pollutant types, he and his team are studying emissions levels from diesel trucks to understand and analyze the impact of new control technologies and California air pollution regulations.
"We're measuring a range of pollutants relevant to public health and the environment," said Kirchstetter, an air quality scientist who also serves as an adjunct professor in UC Berkeley's Department of Civil and Environmental Engineering. "Heavy-duty diesel trucks are major sources of nitrogen oxides, which are a precursor to the formation of ozone and particulate matter (PM) in the atmosphere, and of black carbon PM, which, according to climate scientists, contributes to global warming and regional changes in climate, such as precipitation and snow melting."
Outdoor air pollution is linked to 100,000 premature deaths per year in the United States, according to published studies. While the U.S. Environmental Protection Agency (EPA) has set emissions standards for new engines, most trucks and buses run for several decades, so the California Air Resources Board (CARB) has sought to accelerate emissions reductions with aggressive new regulations in recent years. As a result growing numbers of heavy-duty diesel trucks in California are using two control technologies, a diesel particle filter, which removes most particulate matter, and selective catalytic reduction, which targets emissions of nitrogen oxides (NOx).
Diesel truck image via Shutterstock.
Read more at ScienceDaily.